On May 28, 2021, a press tour to the Kumtor mine was held for media representatives. Journalists of the leading national and international mass media visited the mine's main production sites where they saw with their own eyes that the mine is currently continuously operating in a regular mode.
"There are no problems at the Kumtor mine. All departments are working, production targets are being met, there are enough stocks of spare parts, consumables, lubricants and fuel", told the reporters Nurdin Usenov, Mill Manager and acting Director, Operations, of Kumtor Gold Company (KGC).
KGC Mine Operations Superintendent Tynchtyk Mokeev noted that the mine operations have not been stopped and are carried out in compliance with the safety regulations.
"The work force treated the introduction of temporary external management in Kumtor Gold Company with understanding, and the company employees are in a good mood," Mokeev said.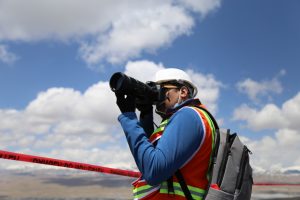 The journalists were shown the pit wall monitoring and scanning system and the glacier movement monitoring laser system. Senior Geotechnical Engineer Salamat Toguzbaev said that on May 15, 2021, access to the servers was blocked from the outside, while monitoring data continued to arrive. Access to the servers was restored on May 19, 2021. No incidents were recorded during these days.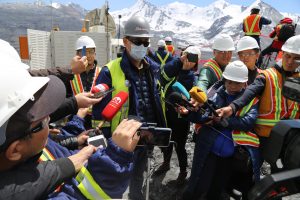 Head of the KR State Committee for Ecology and Climate Dinara Kutmanova told the reporters which violations were committed during the Kumtor mine development and showed the journalists documents that confirm failure of the Canadian company Centerra to comply with environmental standards.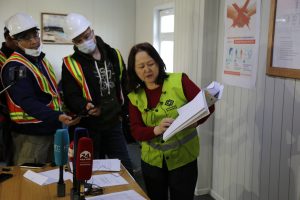 According to her, previously, waste dumps were placed directly on the Davydov and Lysyi glaciers. Since the beginning of the pit development in 1995, more than 1 billion tons of waste have been dumped on the glaciers, despite the fact that this is prohibited. Thus, according to the Head of the State Committee for Ecology and Climate D. Kutmanova, 186 million cubic meters of glaciers have been destroyed. The Chief Ecologist of the country added that today the waste dumps are being placed in the valley 10 km below the level of glaciers.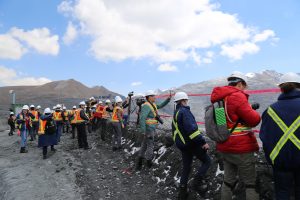 Media representatives were shown the open pit, Petrov Lake, Tailings Storage Facility, treatment plants, and the Camp. The budgeted pit production is 550 thousand tons of rock per day. Currently, 170 pieces of heavy equipment are involved, including 116 dump trucks and 14 excavators. The journalists were impressed by the scale and technology of the project.
For more information, please contact the Media Relations Department
Phone: (312) 90-07-07; 90-08-08.