The charity football tournament entitled 'Open Your Eyes to Autism', organized by the Secretariat of the Business Development and Investments Council under the KR Government and the American Chamber of Commerce in the Kyrgyz Republic, took place on October 27, 2018.
The event was aimed at raising funds for the Public association of parents of children with autism 'Hand in Hand'. Representatives of Kumtor Gold Company took part in the tournament and made their contribution as well.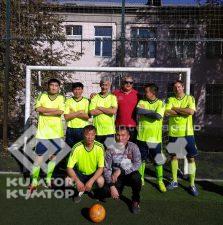 Football teams should have consisted of at least 5 players, including substitutes. Professional players (participants of football competitions in A and B leagues) were not allowed to play. All players were supposed to be over 30 years old, but 2 players under 30 were allowed to play in each team.
A total of 15 teams representing various AmChamber members the Kyrgyz Republic took part in the tournament. The team of Bank of Asia won the tournament. Second and third places were shared by employees of Integra and Bear Beer companies. The public association received KGS 80,000 raised during the charity tournament.
Note that earlier, upon the request of the Association of parents of children with autism 'Hand in Hand', Kumtor has donated five iPads to the public association so that children could use them for studying and developing their skills.