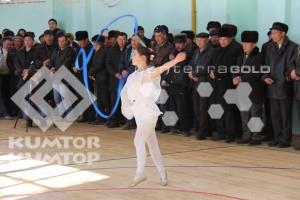 The official opening of a renovated gym took place at the Sadyk Sadykov higher school in the village of Saruu, Jety-Oguz district Issyk-Kul province, on February 28, 2014. The kids' joy was shared also by hundreds of village residents, local officials and representatives of Kumtor Company.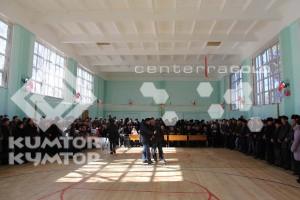 Renovations made are perfect, said the head of the Jety-Oguz administration, Kalysbek Judeyev, in his speech. He thanked the Canadian company for assistance and extended heartfelt felicitations to students, schoolteachers and village residents expressing hope that training in a new gym would bring new Olympic champions to the village.
A volleyball match, Yntymak, among the Jety-Oguz schoolteachers followed the opening ceremony while young female gymnasts performed dancing and gymnastics routines.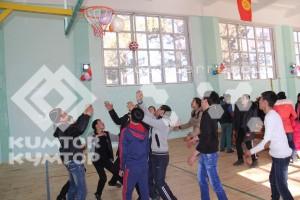 The 3-million-som gym renovation was entirely sponsored by Kumtor. The project started by a local contractor, Saruukurulush, in mid-July 2013 was completed in February 2014. Remarkably, the gym in a school attended by nearly 1,000 students has never been overhauled since opening in 1978. The renovated gym has fresh repaired walls and the ceiling, a new floor, modernized heating system, new windows, electric wiring, lighting, sports equipment, a locker room and trainers room. Phys ed classes have started and, judging by the students' reaction, they like the new gym very much.