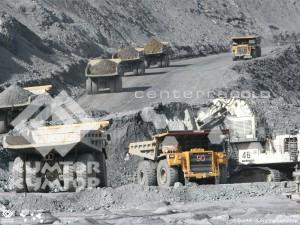 In Kyrgyzstan, a poor country with few natural resources, the abundant gold deposits in the country's Tien Shan mountains have proved a vital economic lifeline.
Since 1997, more than 8.4 million ounces of gold have been extracted from the isolated, snow-capped Tien Shan range — adding $1.9 billion to the Kyrgyz budget and accounting for 12 percent of the country's total GDP.
But some Kyrgyz officials say that's not enough — and are demanding a more generous deal from Centerra Gold, the powerful Canadian company that has operated the mountaintop Kumtor mine for the past 16 years.
Temir Sariev, the country's economy minister, is leading the charge against Kumtor.
Speaking to parliament on January 25, Sariev criticized a 2009 deal granting Kumtor a favorable tax rate and only meager fines for environmental damage.
"If we look at 2011, [Kumtor] extracted 18.7 tons of gold. It was sold for a total of $941 million. They paid us $146 million," Sariev said. "At the same time, their net profit was $435 million. That's pure net profit. And for ecological damage, they paid $310,000 [that year]. We asked, where did they get that number? Why was it that amount? No one in any of the government agencies could explain it to us. Somebody just made that decision and put it in the agreement."
Politically Volatile
The relationship between developing countries and powerful foreign investors has always been a sensitive one. But it is especially touchy in a country like Kyrgyzstan, which is not only impoverished but politically volatile.
In less than a decade the country has seen two presidents violently deposed — including Kurmanbek Bakiev, who forged the 2009 Kumtor deal that Sariev and others now describe as "murky."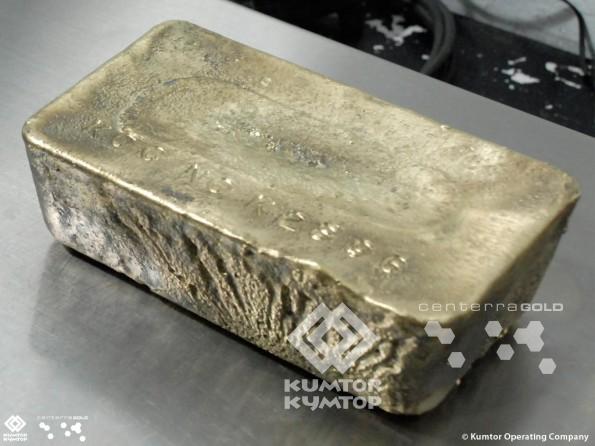 John Pearson, Centerra's vice president for investor relations, defends the 2009 agreement as transparent and fully vetted. He notes that the deal, among other things, substantially raised the Kyrgyz government's own share in the company to just under 33 percent.
RELATED STORY: Was Kyrgyz Protest Really About Gold Mine Or Face Time?
"So they are a shareholder, as well, and benefit from both the taxes and the employment, the wages, paid to employees," Pearon says. "We employ over 2,700 people; 95 percent are Kyrgyz nationals and they are very well paid. [Kyrgyz authorities] also benefit from the dividends that Centerra pays, as all shareholders benefit."
Centerra has called for "constructive dialogue" to resolve the issue with Bishkek, which has already backed down from threats late last year to nationalize the mine.
But the Canadian giant — which also owns and operates the profitable Boroo gold mine in Mongolia — appears unwilling to budge from the Bakiev-era deal, which grants it a favorable 14 percent tax rate on gross revenue.
Risks Of Dependence
Most mining companies operating in Kyrgyzstan pay a tax rate of between 17 and 20 percent. Still, such budget contributions are dwarfed by Kumtor, which singlehandedly accounts for half of the country's total exports.
Kyrgyzstan's dependence on Kumtor comes with its own risks. Last year, the country's GDP unexpectedly dipped 0.9 percent when a shift in ice formations near the open-pit mine reduced the company's annual output by an estimated 10,000 ounces of gold.
Centerra says production forecasts are back on track for 2013 and that Kumtor is aiming to produce an average of 650,000 ounces of gold a year for the next decade.
The company is also investing $13 million a year in exploration and says it has located an additional 1.8 million ounces of high-grade deposits that could keep the mining company busy long beyond the end of its current contract in 2042.
'Serious' Consequences
Cecilia Jamasmie, an editor at the industry news site Mining.com, says Centerra is eager to hold onto its position as the Western company operating the largest gold deposit in Central Asia.
But she warns that the mining giant is still negotiating from a position of strength — and that Kyrgyz authorities may scare off much-needed foreign investors if the Kumtor debate grows toxic.
"Say the two parties — Centerra Gold and the [Kyrgyz] government — decide to take the conflict to an international court. The consequences for the country would be more than serious," Jamasmie says. "It would be a huge financial loss for both of them. And what is more important, in my opinion, is that it would damage even more the investment climate right now that is in the country. Companies are not looking to go to Kyrgyzstan, mainly because of the ongoing problems that [the country is] having with Centerra Gold."
By Daisy Sindelar
Radio Free Europe/Radio Liberty