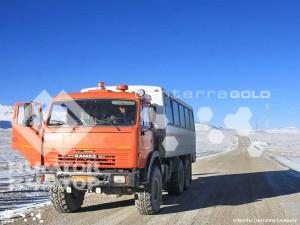 Today, 28th of November 2013 at 12:30 pm, anonymous people stopped company vehicle with 17 employees directing to Kumtor site. People armed with fire guns on motor vehicles followed company car from Saruu village to Chychkan village, where they halted KAMAZ and forced passengers and driver to step out from transportation vehicle. Then aggressors hijacked vehicle in unknown direction. However, later the vehicle was returned to the company.
Also today, protesters stopped company bus, transporting employees from Karakol to interchange station "Volna" in Barskoon village near Darkhan village and directed to Saruu village. Protesters released it after holding vehicle for more than 30 minute and sent it back to Karakol.
According to these facts, the company appealed to enforcement authorities to take measures stipulated by the legislation of the Kyrgyz Republic.