A mass clean-up event took place in Balykchy last Saturday, April 21, 2018. The event was organized by the Mayor's office and non-governmental foundation 'Jashyl Bilik' with the support of Kumtor Gold Company (KGC). About 750 people took part in the clean-up event, including local residents, representatives of the Mayor's office, local youth organizations and employees of private companies.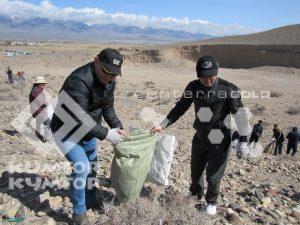 KGC always tries to support the initiatives of local organizations on holding such events. In 2018, the Company helped to arrange a series of clean-up events in Jeti-Oguz and Ton regions of Issyk-Kul oblast. The Company provides garbage bags and gloves for all participants of such events.
In 2018, KGC supported clean-up events as part of the 'Green Point' Project, implemented in Issyk-Kul oblast with the financial support of KGC. Within this project, six recycling centers operate in Issyk-Kul oblast during the summertime; the locals and tourists can submit paper, plastic and glass for recycling in these centers.
"During the month, we have held clean-up events all over the town, and before this event there was only one most problematic area – the territory adjacent to the landfill, as well as the roadsides in the southern part of the town. Because of the constant winds, plastic bags are dispersed for several kilometers and, therefore, it was important to involve as many participants as possible. Such a large-scale event was held several years ago, and we are happy that we have managed to hold this environmental event again, owing to Kumtor Gold Company," First Vice Mayor of Balykchy Alisher Tabaldiev said.
"I love my town very much and I want it to be always clean and tidy. I am glad that so many townspeople supported the clean-up event and I met so many likeminded people here," participant of the event Adilet Beishenaliev said.