Last week, the environmental summer camp began its work in Chon Jargylchak village, Issyk-Kul oblast. The summer camp was organized by 'Sarychat' Public Association with the financial support from Kumtor Gold Company.
25 children from needy, large and incomplete families residing in Jeti-Oguz region of Issyk-Kul oblast will be having a rest and gaining new knowledge during ten days at the 'Edelweiss' recreation house. The Company has allocated about KGS 317,000 for running the children's environmental summer camp this year.
Swimming and relaxing is not the only occupation of kids at the camp: the competent teachers familiarize children with the local flora and fauna, teach them to take care of the environment. Kumtor employees visited the children's camp, where they took a look at children's crafts and presented them gifts – books and comics.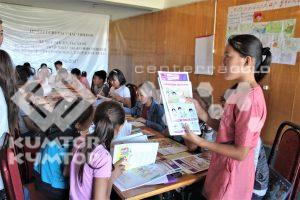 "We have started holding this children's environmental summer camp with the support of Kumtor Company since 2004. About 500 schoolchildren, including the batch of this year, have graduated the summer camp; many of them have already become environmental specialists," head of the environmental camp Ishenkul Asakeyev said.