The 15th Anniversary Children's Environmental Camp organized by the Public Association 'Sarychat' under the State Nature Reserve 'Sarychat-Eertash' was held in Issyk-Kul oblast with the financial support of Kumtor Gold Company.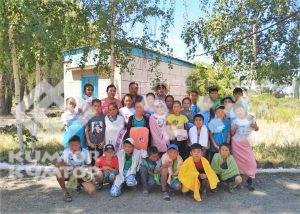 Since 2004, children from low-income, large and incomplete families living in Jeti-Oguz district of Issyk-Kul oblast have been resting and getting new knowledge in the Edelweiss vacation hotel. The training program of the Environmental Camp introduces children to the nature of their native land, teaches them the culture and rules of being in nature and the basics of biodiversity conservation.
This year the camp has been visited by 30 students of 5-6 grades from Jeti-Oguz district. Between having fun, playing games and swimming in the lake, children studied such serious subjects as 'Topography,' 'The Current State of Issyk-Kul Biosphere Area,' 'Natural Resources Necessary for Human Activity.'
Adilet from Tamga village of Jeti-Oguz district shared his impressions. Most of all, he liked delicious food and environmental games. And Nazgul from Barskoon village wished that such a camp with interesting lessons would be held every year. This year, Kumtor Gold Company has allocated more than KGS 240,000 to support the environmental camp.
According to the Environmental Camp's Chief Ishenkul Asakeyev, about 500 children from the low-income and vulnerable families have rested and gained new knowledge in environmental science during 15 years of the camp's operation. The camp organizers believe that combining recreation and studies allows fostering a love for nature in children's hearts. According to Ishenkul Asakeyev, many guys, who visited the environmental camp, found themselves in environment-related professions..