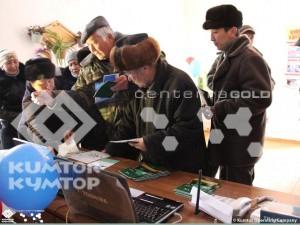 • Monthly payments to war veterans within veterans support project of the villages Tamga, Tosor, Barskoon, Kichi-Jargylchak – 83,000 soms
• The Jon-Jargylchak village library for newspapers subscription – 3,460 soms
• The Kichi- Jargylchak village library for newspapers subscription – 3,765 soms
• Diagnostic medical center in the Barskoon Village according to agreement – 225,000 soms
• The Barskoon Village Council for transportation costs of Greco-Roman wrestling children team participated in Osh competition – 5,000 soms
• The Issyk-Kul enterprise of high-voltage system, the Tamga substation – 30,000 soms
• Dance group 'Kyzgaldak' in the Tamga Village for video camera purchase – 23,500 soms
• The Barskoon Village Council for purchase of sport equipment for sport events coincided with Victory Day – 79,186 soms
• The Jety-Oguz State Administration for purchase of gifts to war veterans on the threshold of Victory Day – 120,000 soms
• Cleaning of the Barskoon Gorge within environmental project – 40,605 soms
• Sport Club 'Hidaiat' in the Tosor Village for the 2nd international judo tournament among adolescents – 174,301 soms
• 'Kumtor El Aikyn' Public Fund in the Barskoon Village for purchase of gifts to war veterans on the threshold of Victory Day – 30,000 soms
• 'Rural Life' Public Fund in the Kyzyl-Suu Village for conduction of events for children coincided with International Day of Children Protection – 80,000 soms
• The Jety-Oguz State Administration for conduction of festival 'Consent, Unity and Culture' – 150,000 soms
• The Darhan Village Council for republican wrestling tournament – 49,900 soms
• The Tamga kindergarten for celebration of International Day of Children Protection – 10,000 soms
• The Tosor village library for newspapers subscription – 7,000 soms
• The Tamga village library for newspapers subscription – 7,000 soms
• 'Sarychat' Public Association for environmental camp for children from low-income families of villages Tamga, Tosor, Kichi-Jargylchak, Jon-Jargylchak – 297,000 soms
• The Barskoon Village hospital for building repair– 83,000 soms
• 'Jetyoguz' microcredit agency in the Tamga Village for micro crediting of residents of Jety-Oguz District – 23,500 000 soms
• Joint project with nature protection organization 'Fauna and Flora International' for conservation and development of biodiversity of Sarychat-Ertash Reserve – 948,867 soms
• Purchase of New Year gifts for schools and kindergartens of Jety-Oguz District (Tamga, Tosor, Kichi-Jargylchak, Jon-Jargylchak, Ak-Shyrak) – 537,776 soms
• The Jety-Oguz State Administration for purchase of New Year gifts for children from low income families and orphans – 200,000 soms
Total for 2012: 26,688,360 soms
In addition:

• Community empowerment project in the southern part of Issyk-Kul was launched in Jety-Oguz region with the financial support of Kumtor Operating Company. The project was implemented by "One village – one product" Association. The aim of the project is to combine the efforts of private entrepreneurs and local communities to develop the economic potential of the Issyk-Kul region, through the production of goods from existing local resources. A key principle of the "One Village – One Product" is that the villagers themselves decide what product they are willing to produce. The educational trainings are not the only aspect of the OVOP project. Program participants are also given the opportunity to exhibit their products at Karakol and Bishkek Research Shops, where, according to sales figures, participants will learn the basics needed for marketing and business.
• The total cost of the project is 300 000 USd. In Jety-Oguz region 21 local communities from Baltabay, Jety-Oguz, Boz Beshik, Kyzyl-Suu, Chon Kyzyl Suu, Saruu, Darhan, Barskoon and Ak-Terek villages are involved in this project. The main activities of these communities are production of jam, juice and honey, handcrafts, dried fruits and other.
• Joint project with Kyrgyztelekom JSC for installment of three digital exchanges in Barskoon, Tamga and Tosor villages. From now on, the three communities are provided not only with more advanced telephone services but also with access to the Internet and digital television benefits. Kumtor purchased modern equipment in the total amount of 75 000 USd.
• Due to the shortage of fuel throughout the region in 2012, KOC provided 241 370 litters of diesel fuel for the farmers at a reduced price of 33 soms per liter. The fuel required for the spring sowing campaign was transferred to the region administration with all taxes paid by the Company itself. The payment from the part of Kumtor makes up 1 399 938 soms and is considered as donation.
• Also the Company provided 3 tonnes of diesel fuel to Ak-Shirak aiyl okmotu for repair works of Sook-Ak-Shirak road.
• Barskoon kindergarten was provided with a 40-feet container to be used as coal storage, scrap wood and other material for improvement of playground.
• Kyzyl-Suu kindergarten was provided with 2 trucks of scrap wood.
• Barskoon village administration was provided with 2 trucks of scrap wood for the region's needs.
Financial support to Jety-Oguz District from Issyk-Kul Development Fund was76,825,183 soms.