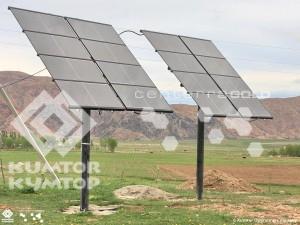 • Monthly payments to war veterans within veterans support project of the villages Tamga, Tosor, Barskoon, Kichi-Jargylchak – 54,000 soms
• The Tamga secondary school for school bus repair – 19,200 soms
• The Tamga village library for newspapers subscription – 5,820 soms
• The Tosor village library for newspapers subscription – 5,156 soms
• The Barskoon village library for newspapers subscription – 5,000 soms
• The Barskoon School library named after Kendirbaev for newspapers subscription – 4,511 soms
• 'Karek' Public Association for foundation of sewing shop and hairdressing salon – 150,000 soms
• Sport Club 'Hidaiat' in the Tosor Village for purchase of sport suits and equipment – 18,220 soms
• The Tamga Village musical school for purchase of musical instruments and equipment, school desks and heater – 89,400 soms
• 'Nur-Tem' development and education center in the Kyzyl-Suu Village for purchase of projector – 22,944 soms
• Kindergarten in the Tamga Village for purchase of beds, table, computer and printer – 120,120 soms
• The Jety-Oguz Youth Committee for improvement of district park and creation of skating rink (skates, benches, musical equipment were purchased) – 518,952 soms
• The Tosor village library for purchase of books – 32,000 soms
• The Jety-Oguz State Administration for purchase of gifts for International Women's Day– 202,000 soms
• The Chon-Jargylchak village library for newspapers subscription – 4,100 soms
• 'Jetyoguz' microcredit agency in the Tamga Village for micro crediting of residents of Jety-Oguz District – 12,094,600 soms
• 'Nariste' kindergarten in the Kyzyl-Suu Village for purchase of bunk beds – 380,000 soms
• 'Kyzgaldak' dance group in the Tamga Village for sewing of dance costumes– 50,000 soms
• The Jety-Oguz State Administration for celebration of Victory Day – 150,000 soms
• Furniture (table for meetings, 2 office tables, 2 bookcases, 2 cupboards, file cabinet, strip of carpet) was given to Jety-Oguz District Union of War Veterans in Afghanistan
• Sport Club 'Hidaiat' in the Tosor Village for an annual international judo tournament among adolescents – 209,307 soms
• Repair of sport gym at the Saruu Village School named after Sadykov – 1,859,764 soms. The works will start early June, 2013
Total for 2013: 15,994,824 soms
In addition:
• Joint project with USAID-funded Kyrgyz Agro-Input Enterprise Development (KAED) Project on rehabilitation of two sites with a total acreage of 2,000 hectares in Ak-Dobo and Lipenka rural councils, Issyk-Kul Oblast. The main objective of this joint project is to prevent degradation of agricultural land by restoring soil fertility and rehabilitating irrigation systems. It is planned to complete rehabilitation works in the Ak-Dobo rural council by September 2013 and in the Lipenka rural council by November 2013. The Kumtor's contribution in this project is 200 000 USd.
• The Kumtor Company and AVEP Public Foundation have launched their joint three-year project, Karagat+, designed to give a boost to communities and expand the potential of the fruit-and-berry market in Kyrgyzstan. The Project area is the Issyk-Kul region, the southern coast of Lake Issyk-Kul in particular. Under this environmentally oriented Project, the Foundation will be training the farmers in the field of growing new varieties of currants, high-yield and cold- and disease-resistant, and innovative irrigation methods. AVEP experts will also provide assistance in creating a network of nursery gardens and farming goods reception centers.
• The total project budget is 900 000 USd. It's planned to create two nurseries in Jety-Oguz region, in Barskoon and Kyzyl-Suu villages. Two mutual support groups and one demonstration center are created in each of three villages: Orgochor, Darhan and Ak Oston. Also the demonstration center will be established on the base of the technical school in Barskoon village where the project's participants will be trained.
• In addition, the three-year project on establishment of greenhouses in Issyk-Kul oblast will be launched. The total project cost is 325 000 USd. It's decided to create one greenhouse on the base of technical school in Barskoon village.
• The joint two-year project "YouthBanks" implemented with Fund Eurasia in the Central Asia (FECA). "YouthBank" is not a financial institution but a bank of young people's ideas. Young people are involved in developing and running community initiatives for themselves. Each "YouthBank" is composed of a group of 8-10 young people acting as a local grant-making committee. At present time 6 "YouthBanks" are established in Issyk-Kul oblast, two of which are in Jety-Oguz region, Kyzyl-Suu and Tamga villages. All grant-making committee members successfully attended training held by FECA.
• The project's budget financed by Kumtor is 300 000 USd, 50 000 USd per each "YouthBank".
• Jety-Oguz region state administration has received 3 tonnes of waste oil for spring sowing campaign.
• Jety-Oguz Interior Affairs Department was provided with Niva car to help them do better job at the Sary-Moinok post.
• In 2013, KOC decided to provide 287 520 litters of diesel fuel for the region farmers at a reduced price of 34, 5 soms per liter. All taxes were paid by the Company itself. Currently the Jety-Oguz region state administration has received already 180 139 litters. The payment from the part of Kumtor for the litters received makes up 540 964 soms and is considered as donation.
Currently, financial support to Jety-Oguz region from Issyk-Kul Development Fund is 15,431,067 soms.