Business planning trainings for rural youth were held in Karakol, Issyk-Kul oblast, on April 17-20, 2018. Trainings for thirty young entrepreneurs, potential recipients of business development grants, have been organized as part of the project financed by Kumtor Gold Company (KGC) and implemented by Public Foundation 'Fair and Sustainable Development Solutions' (FSDS).
The joint project "Economic empowerment  of rural youth in Issyk-Kul oblast of KR" is aimed at improving the living conditions of rural youth and young families of Ton and Jety-Oguz regions by providing support to their economic activities. The project executors are planning to support initiatives on income diversification, including intrafarm/nonfarm and other types of production activities.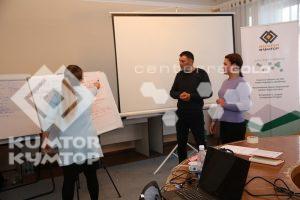 The cooperation of Kumtor Gold Company and FSDS in the area of expanding economic opportunities for rural youth of Issyk-Kul oblast provided the locals with an opportunity to identify and use sustainable sources of livelihood. These trainings will help about 100 young people to acquire entrepreneurial skills, get acquainted with business models and ways of selling their products and services. The project covers Kun-Chygysh and Ton villages of Ton region, as well as Barskoon, Tosor and Darkhan villages of Jety-Oguz region of Issyk-Kul oblast.
The budget of the three-year project, launched in 2016, was $200,000. Over the period of the project implementation, five farmer groups have been established, about 300 farmers have been trained, 176 farmers have been certified by the Federation of Organic Development of the Kyrgyz Republic. Achievements in the livestock sector included teaching new methods of artificial insemination to training participants, owing to which 68 farmers have managed to improve breeds of cows and 10 meat producers have signed raw material supply contracts with the sausage plants. Moreover, during two years, FSDS has been organizing a platform for sharing experiences and establishing business contacts within the Oruk Fest.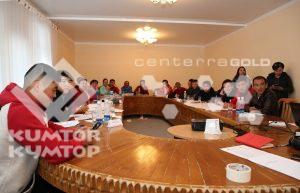 "At the beginning of the year, we have announced a competition among the young rural entrepreneurs inviting them to take part in the grant program. In the course of the project, we are planning to teach business planning to about 100 young people and choose about 10-15 most interesting and sustainable business ideas that will receive funding from KGC to be further developed in Issyk-Kul oblast. Preference will be given to already existing business projects that lack support. Co-funding on behalf of potential grant recipients is one of the conditions of participation in the project. We believe that young people will be able to increase the incomes of their families, contribute to the economic development of their native village or region and, probably, create additional jobs," Executive Director of FSDS Muratbek Ismailov noted.
"We are ready to support projects aimed at development of entrepreneurial skills among the local youth and help them in generating business ideas. Diversification of income of rural youth is one of the most important aspects of the project, and we hope for its successful implementation," said Aktilek Tungatarov, Sustainable Development Director, Kumtor Gold Company.
For information: FSDS is a non-governmental organization established in 2014 and based in Kyrgyzstan. As part of its mission, FSDS seeks to improve the well-being of vulnerable populations in Kyrgyzstan and Tajikistan through the promotion of inclusive society and fair economic development in the regions. FSDS focuses on 4 major areas of activities: creating favorable conditions for enforcement of rights of children with disabilities, enforcement of rights of migrant workers, support of social entrepreneurship and development of local communities. FSDS believes that supporting entrepreneurship at the community level is one of the most effective ways to combat poverty and ensure social and economic development.