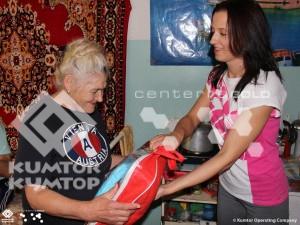 In our lives there is room not only for heroic deeds but also for unostentatious human charity. This has been demonstrated by Kumtor Company employees who have organized, of their free will, a fund-raising campaign for a nursing home located at the village of Nizhnyaya Seraphimovka.
Last spring, a group of Kumtor employees visited the Nizhnyaya Seraphimovka nursing home to find out what the elderly people needed most of all. Articles of prime necessity proved to be the thing most wanting while the institution itself had asked for technical assistance. There are almost 400 old and disabled people living permanently in the nursing home, including veterans of World War II, Afghan war and participants in emergency clean-up after the Chernobyl nuclear accident. As the aid they needed could not be provided in the form of just a one-day assistance program it was decided to organize a fund-raising campaign among Company employees.
The funds thus raised (the campaign involved more than 200 employees, including those of the Bishkek head office, Kumtor mine and Balykchi Marshalling Yard) were used to buy pitch paper and heat insulators for the heating main (51.750 soms) and warm plaids (132.000 soms). Kumtor Company, in its turn, contributed a further 80,000 soms to purchase foods. Moreover, Kumtor Company donated to the nursing home 7 television sets, 3 media stands, 3 carpets, 1 refrigerator and 23 articles of office furniture of 8 types.
On September 27, 2013, a group of Kumtor employees gave each inmate personally a gift set including a plaid, a towel, a soap, a packet of tea, cookies and a can of condensed milk. It is especially important for elder and disabled people to feel support of their neighbors. Thus, the Kumtor employees tried to cheer them up and encompass them with care and attention.