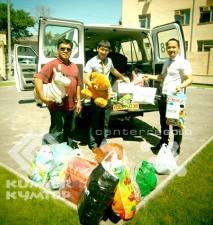 On the International Children's Day Kyrgyz Investment and Credit Bank (KICB) and "Kumtor Operating Company" held a joint charity campaign "Dreams come true" for the orphans of Jeti-Oguz district.
Earlier, employees of Kyrgyz Investment and Credit Bank took the initiative to collect clothes, shoes and toys for orphans. Kumtor Operating Company has also provided humanitarian aid, delivered gifts to the region and transferred KGS 80 000 for celebration of the event and purchase of gifts.
The ceremony of transfer of gifts took place in the House of Culture in the Kyzyl-Suu village of Jeti-Oguz district with the participation of Altynbek Jailobaev from the KICB Karakol branch. The event was organized by local fund "Rural Life". All gifts have been handed over to Bibigul Bupebaeva, the Head of the Fund, for distribution among the orphans and children from poor families who raised only by one parent.