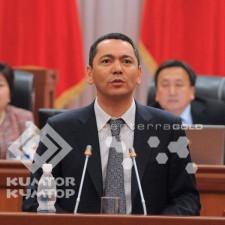 Kyrgyzstan's parliament elected Omurbek Babanov as its new prime minister on Friday, awarding strong powers to the incoming premier to make good on promises to alleviate poverty and fight endemic crime in the volatile Central Asian republic.
A total of 113 parliamentarians voted for Babanov. Only two voted against…
«At the first stage, we need to achieve stability, eradicate corruption and fight crime,» Babanov, previously deputy prime minister, told parliament before the vote. «The nation wants to have more jobs, peace and stability.»
«The basis of everything is stability,» said Babanov.
«The main task for our government is to build an economy that will allow us to be able to feed ourselves," Babanov said. "Our budget now hinges on foreign borrowing, but foreign loans should be channelled to develop the economy, not to support the budget.»…
The largely agricultural economy relies heavily on production from the Kumtor gold mine, the flagship asset of Canadian miner Centerra Gold, and remittances from hundreds of thousands of migrant workers.