Employees of KGC Media Relations Department donated copies of Children's Encyclopedia to school libraries of Bishkek. The charity event took place on January 28, 2019 at the Department of Education under the Bishkek City Hall. Apart from KGC Media Relations staff, the event was attended by Head of the Department of Education Saule Meirmanova, as well as representatives of educational institutions of Bishkek.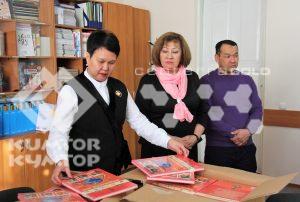 Saule Meyrmanova noted that the event counted for much, since school library collections had not been replenished for a long time. 'We are very pleased that Kumtor Gold Company made such a wonderful gift to our children. These are not just books, these are an investment in the future of Kyrgyzstan,' Meirmanova noted.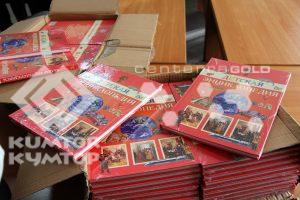 Media Relations Manager Marina Gavrilova stressed the importance of reading books. 'The basic motive of our participation in the project was the understanding of the necessity to develop children's interest in reading, in the mother-tongue and Kyrgyz national traditions. Unfortunately, many teenagers today prefer to spend time in front of the computer, believing that reading books is a waste of time. But, actually, reading educates, broadens the mind, makes a person more informed and intelligent,' she emphasized.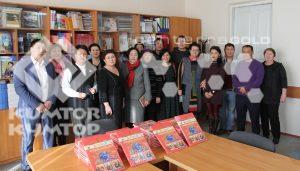 More than 90 schools fall under the responsibility of the Department of Education of the Bishkek City Hall. A total of 500 books in Kyrgyz and Russian were handed them over at the solemn ceremony.
Children's encyclopedias were published by Raritet Publishers with the financial support of Kumtor.
The illustrated encyclopedia contains the most recent information on all areas of knowledge. It will be a wonderful reference book for schoolchildren and a popular reading book, notable for simple and explicit presentation of information, as well as for scientific validity of all the data presented. The encyclopedia will be a right hand for anyone who wants to broaden his/her horizon and is interested in technology, history, geography, biology and astronomy.