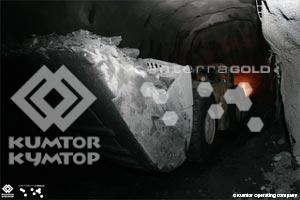 Development work on the Kumtor underground project at the Kumtor Mine will be temporarily suspended effective August 10, 2012. As a result of the temporary suspension of the underground development activities, the underground workforce of approximately 110 persons will be reduced to about 40, the minimum required to provide essential services for the declines and ensure their operational safety while on care and maintenance. Meanwhile, the Company will attempt to place the other 70 employees with other departments within Kumtor's operations. In so doing, the Company will comply with the applicable labor laws of the Kyrgyz Republic.
The temporary suspension is a result of the ongoing technical and financial study of the potential for expanding the limits of the open pit at Kumtor. Work-to-date has produced encouraging results and indicates that a much larger open pit is feasible, which would result in an addition to the open pit reserves and a substantially extended mine life. The expanded open pit would also encompass a significant part of the existing SB underground development and would result in a revaluation of the associated capital investment, therefore, further development work on the underground project has been postponed until the study is finalized.
The Company expects to complete the study and release its findings by the end of the third quarter of 2012. Underground exploration drilling will continue from the underground declines to further delineate and expand the SB Zone to depth and along strike.
Mining activities at Kumtor are continuing in the open pit and the unload areas, and are on schedule to access ore in mid-September. The mill has been temporarily shutdown due to depletion of the ore stockpiles in July. Scheduled mill maintenance and repair work will be completed during the shutdown period. The mill shutdown has had no impact on employment levels for the mill department. The Company expects the mill to recommence work in mid-September once ore becomes available for processing.
For further information please contact Media Relations, KOC