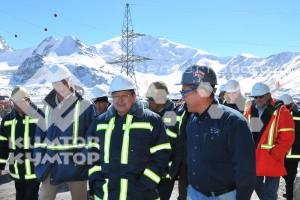 Kyrgyzstan's new prime minister ruled out nationalisation of a flagship gold mining venture with Canada's Centerra Gold Inc and pledged on Monday to defend badly-needed foreign investment in the volatile central Asian country.
Zhantoro Satybaldiyev was elected by an overwhelming vote in parliament on Sept. 5 on pledges to fight corruption and restore economic growth in the mainly Muslim nation of 5.5 million.
To encourage growth, the 56-year-old technocrat must lure investors to the country, which has seen two presidents toppled by violent revolts since 2005. Around 500 people were killed in inter-ethnic clashes in June 2010.
Adding to political instability, Kyrgyzstan's legislature voted in June for renegotiation of a contract with Centerra, which runs the Kumtor gold mine in the Tien Shan mountains, after a report found the project had damaged the environment.
Persistent calls to nationalise Kumtor Operating Co – the largest gold mine operated in Central Asia by a Western-based company – have further heated tension around the project, although the opposition failed to muster up enough votes in parliament to adopt this policy.
"Kumtor will not be nationalised," Satybaldiyev told reporters after visiting the mine and meeting Centerra's top management. "Problems will be resolved. I asked (the Kumtor venture) to keep up its output."
"Today I held meetings at Kumtor, tomorrow I will meet other investors. We will support investors to work for the good of Kyrgyzstan."
"POLITICAL CARD"
Earlier official attempts to attract large-scale investment to the impoverished but resource-rich country have snagged on protests by nationalists angered by what they describe as a sell-off of the country to foreigners.
On Aug. 28, the government had to cancel its first televised auction aiming to sell new mining licences after nationalist protesters stormed a TV studio.
Last month, Kyrgyz villagers seized bulldozers from a construction company repairing a road to a mine operated by Chaarat Gold.
"If they (nationalists) try and violate the law again, they will be punished," Satybaldiyev said.
He said he believed that all environmental issues at Kumtor could be resolved calmly, together with the company.
"Most likely, a political card is being played here," Satybaldiyev said about nationalist attacks on Kumtor.
The current contract gives Kyrgyzstan a 33-percent stake in the Toronto-based miner, while Centerra retains full ownership of the mine and its output.
Kumtor, located near the Chinese border in wilderness some 4,000 metres above sea level, employs 2,710 people on permanent staff and last year it alone accounted for 12 percent of Kyrgyzstan's gross domestic product and more than a half of the country's total exports.
Last month Centerra restarted the mill at Kumtor after shutting down for seven weeks because it had run out of stockpiled ore for processing.
Centerra had been forced to cut its output at Kumtor earlier this year because ice movements in the pit hindered mining.
Gold output at Kumtor is expected to fall to 390,000-410,000 ounces this year from 583,156 ounces in 2011, company data shows.
Kyrgyzstan's economy shrank by 4.6 percent from a year earlier in January-August, hit by falling output at Kumtor.
But after visiting the mine's gold-extraction factory and watching molten gold being poured from crucibles, Satybaldiyev said he looked forward to continued cooperation with the Canadian investor.
"The way they extract gold, it's really a state-of-the-art job," he said. "To be honest, I am jealous of their skills."
Olga Dzyubenko
Reuters