"Unpacking Constraints to Gender Equality" was the theme of the Global Gender Summit held in Kigali, the capital of Rwanda, from November 25 to 27, 2019. The Summit was organized by the African Development Bank (ADB) with the support of the Government of Rwanda and other international organizations, including the European Bank for Reconstruction and Development (EBRD). Being the EBRD's partner, Centerra Gold Inc. was invited to participate in this event and send its delegates to the Summit to present gender equality programs being implemented within the company.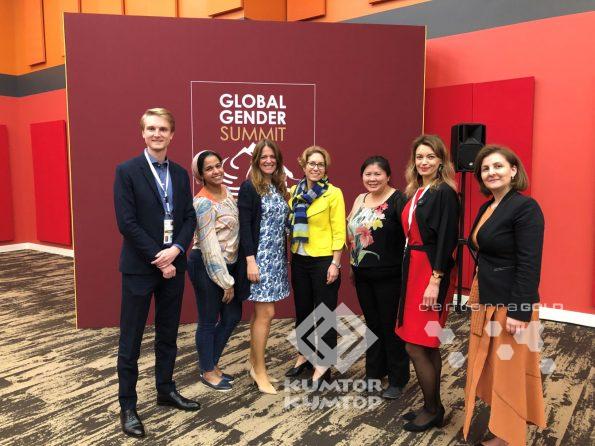 The headquarters in Toronto has sent Mrs. Wendy Yu, Assistant General Counsel and Assistant Corporate Secretary of Centerra Gold Inc., to participate in the Summit. I enjoyed the privilege of representing the Kumtor project. Wendy and I took part in the plenary discussion on "Ensuring Equal Rights in the Workplace. The Role of the Private Sector" and told about the program "Leading From Within", which had been implemented in all Centerra's projects, including Kumtor, since last year. This program has been intended for women working in Centerra and its subsidiaries in order to identify challenges women face in their professional growth, when developing their leadership skills, increasing self-confidence and strengthening faith in their strengths and abilities. Centerra is introducing this program because it wants to attract as many talented people as possible and provide equal opportunities to all its employees, regardless of gender, race, nationality and other unique qualities. The main criteria for employment and career advancement should be professionalism and desire to fulfill their potential. This is exactly what female employees were taught when attended the "Leading From Within" program. I was one of them. Therefore, the company's management entrusted me to tell about the program and my experience of participating in it. It was a great honor and a great responsibility.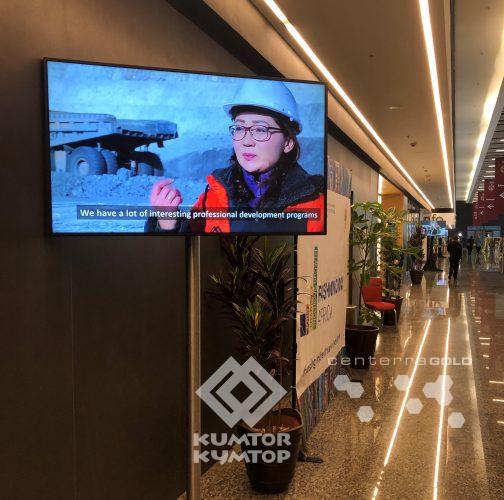 About 2,000 delegates from all over the world came to Kigali, the capital of Rwanda, to attend the Summit. The event brought together leaders from government, development institutions, private sector, civil society, and academia. The Global Gender Summit has been held for the fifth time since 2011. Rwanda is the first African country to host such a summit. The Summit's main goal was to share best practices from all participants and stimulate investment to accelerate progress on gender equality and women's empowerment in Africa and around the world. At the opening ceremony President of Rwanda Paul Kagame said that achieving gender equality requires changing the way of thinking in the society and the attitude towards women. Narrowing this gender gap is everyone's responsibility. Rwanda, by the way, has lately faced major changes for the better in this regard. Reforms introduced in the country since the 1994 genocide have considerably changed the women's lives by giving them, in particular, the right for inheritance and ownership of property. In addition, they are now widely represented in the parliament. In Rwanda, for example, there is a Ministry of Gender and Family Promotion. The country's government pays great attention to these issues. I believe that is why Rwanda ranks better on the Gender Inequality Index than some European countries, such as Switzerland and France. Looking at this green, strikingly clean country and its friendly citizens, it is hard to believe that 25 years ago it was struck with civil war. Many people probably know about this dark page of the Rwandan history. It is amazing how quickly the country has recovered from this shock and turned into a modern, civilized, rapidly developing state. The country has achieved such results in just a quarter of a century owing to the consistent implementation of reforms. And not the last part in these reforms was played by strengthening of women's role both in the political and economic life of the country. They set a quota of 30% women Parliament members, which resulted in a significant increase in the number of women in the Parliament. The Rwandan Cabinet of Ministers is also well balanced in terms of gender; women make up almost 50% of the judicial power. As the speakers of the Summit noted, it is very important that girls and women of the country see representatives of their gender in power. This serves as an example and a convincing evidence for them that women can also be part of the management processes in the state. In addition, women in power are promoting reforms aimed at improving the status of other women. It is important. For example, in Rwanda there are women's cooperatives, set up with the sole aim to provide women with jobs. During the Summit events, we have attended two of such enterprises: a women's coffee production cooperative and a cooperative dealing with tailoring and production of goods from natural materials (wicker baskets, dishware, vases) and decorations.
In general, I want to note that Rwandan women are very passionate about fashion, they dress brightly, modernly and in good style. As the Summit was mostly attended by women, a fashion show has been organized for them, as well as the selling exhibition of garments and accessories by African designers has been arranged right at the Summit venue (Kigali Convention Centre). African fashion bedazzles with eye arresting colors, loud patterns and stylish accessories.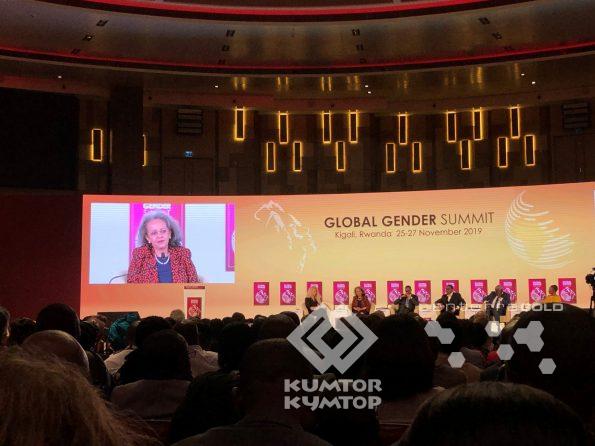 Rwanda is a small country and cannot boast of rich natural resources. Light industry, services and tourism play a significant role in the country's economy. Tourists can find a lot of places to visit in Rwanda! The main attraction of this country is its unique nature. Here you can see the valley of volcanoes, mountain gorillas and other African animals in their natural habitat. We were lucky to visit the Akagera National Park, where we were watching peacefully grazing zebras, antelopes, giraffes, strolling elephants and hippos resting in the pond. Countless birds with bright plumage flew by. The air was crystal clear and pleasantly humid.
Rwandans treat their nature with due care, protect and take care of it. For example, using plastic bags is prohibited in the country since 2000. Here you will never see plastic bags lying in the streets, because they are simply unavailable! Even tourists are forbidden to bring them along. Therefore, if you go to this country, you should pack your things only in paper or fabric bags. The stores also pack the purchased goods in paper bags. When I saw this, I thought, "After all, it is that easy to replace plastic bags with paper bags. And how good it is for the environment! I wish we had the same!" And there is one more good tradition in Rwanda. On the last Saturday of every month, residents of cities and villages come together to clean up the area around their houses and help their neighbors clean or repair something. In other words, they hold a cleanup event. Not once a year, like we do, but every month! Can you imagine? This day is called Umuganda. It is a wonderful tradition! It makes the country cleaner, and instills the right values in people. By the way, the values of the Rwandans are consonant with the values of Centerra and Kumtor: "Continuous Improvement", "Win As A Team", "Responsible Attitude to Work" and, as a result, "Delivering Good Results". In general, we have something in common, and at the same time, we have something to learn from the citizens of this small African country.
I really liked Rwanda; it exceeded my expectations. I must admit, when I was offered to visit the country, I was scared. It is Africa! Apparently, in the childhood we were instilled with the idea that "Africa is terrible, Africa is dangerous." I thought that it was a dirty, unsafe place with all sorts of infections. There is also such a common phrase that "children in Africa are starving." Rwanda, of course, is not the whole of Africa, it is only one country, moreover, one of the most developed African countries (also known as "Switzerland of Africa"), but, frankly speaking, during the whole time of my stay in Rwanda, I haven't seen a single almsman in the streets nor a single beggar. Yes, people watched at me with interest, probably because I was different from them. Some came up and offered to buy goods from them, but no one ran up and asked for money. The Rwandans are small, but proud nation, respecting themselves and others. People study, work, try to make their life and the life of their country better, maintaining harmony with nature. They remember their history, respect traditions, while looking to the future and trying to develop without resting on their laurels. It is very important to be able to maintain harmony with yourself and the outer world and keep the balance. This is the key to successful development.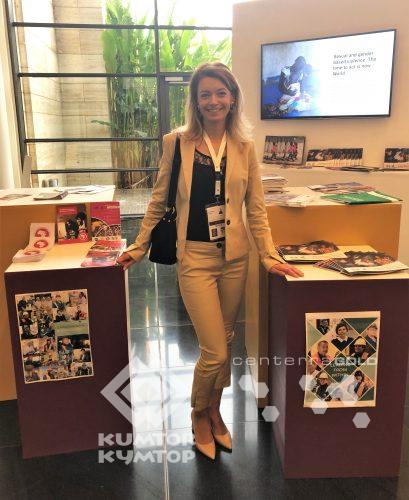 Back on topic of the Summit, I would like to say that the country is being so quickly and successfully developed, perhaps, because the government of Rwanda pays so much attention to the gender equality issues. As President of the African Development Bank (the main organizer of the Summit) Akinwumi Adesina said, "A bird cannot fly with one wing. Let's support women so that they could flourish, then both our business and our countries will flourish as well." It is a very correct thought. I also remembered the words of the President of Ethiopia, Sahle-Work Zewde (by the way, she's a woman), who said at the opening of the Summit: "This is our time! Do not miss it!" Women can do any job. However, it is important to find a job that will be to your liking and will allow you to maintain a balance between family and work, ensuring your financial independence. Participation in the Global Gender Summit was an excellent experience for me and the opportunity to talk to delegates from other countries. The gender inequality issue is very acute in many countries, ranging from domestic violence to discriminatory treatment at work and unequal pay. Solution of these problems requires a comprehensive and systematic work. I am happy that our company pays particular attention to this issue and introduces special programs.
In conclusion, I want to thank the management of our company for confidence they placed in me and all my colleagues, who helped me during the preparation for the Summit: Transportation Services Department – for arrangement of transportation and visa support, Media Relations Department – for preparation of posters and video materials on the "Leading From Within" program, which were demonstrated on the information platform of the Summit.
I would like to extend Season's Greetings to all my colleagues and wish you and your families health, peace and welfare! Believe in yourself! Be active and make your life what you want it to be!
Best regards,
Eleonora