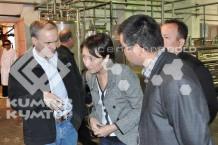 On October 4, 2011, Centerra President Stephen Lang and members of the Company's Board of Directors made a working visit to Issyk-Kul province where they inspected a number of social and business projects that are being implemented by KOC in the region.
At Bar-Bulak, Ton district, Centerra Directors visited the Mambetov High School which was built last year with the support of the Issyk-Kul Development Fund to which KOC makes monthly contributions in an amount of 1% of its gross revenue.
At Bakonbayevo, the delegation visited the Children's Rehabilitation Center, the only one in the Ton district providing rehabilitation for handicapped children, enabling them to communicate with their non-handicapped age-mates, preparing them for attending school and giving them special classes. KOC has helped build a playground at the Center.
Much attention was given to the operation of the Jetyoguz Micro-Credit Agency, which is situated in the village of Tamga, Jety-Oguz district. The Kyrgyz Directors of Centerra expressed interest in crediting procedures, the number and purpose of credits granted so far and the activities of the MCA Supervisory Board.
Also, the delegation inspected the KOC-sponsored Jelden Ata Fruit-Processing Plant, located at Ak-Terek, Jety-Oguz district. The Plant is now getting ready for processing apples, which the enterprise purchases from the community residents.
"It is extremely important for us that the projects implemented by KOC be sustainable and helpful for local communities. We visited some of them today. Actually, I am satisfied with the way they operate. I have growing certainty that we are moving in the right direction. We will do all in our power to make our initiatives in the region effective and transparent," Centerra President Stephen Lang said during his Issyk-Kul visit.