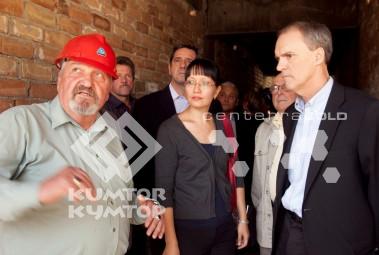 On October 1, 2011, Stephen Lang, Centerra President and Chief Executive Officer; Kanat Sadykov, KR Education and Science Minister; and Osmonbek Artykbayev, a member of Kyrgyzaltyn Board, visited the construction site of school No. 2 at Alamudun, Chu province.
In September, 2011, Centerra Gold Inc. allocated US $10 million in support of school construction and renovation in Kyrgyzstan. "We were approached by the Kyrgyz side asking us for assistance in school construction. It was a good idea, we thought. It is very important for us to render assistance in the education sphere. It is necessary for children to get education in good and durable buildings for it is education that determines the future of a country," said Stephen Lang, Centerra President, during his visit.
It should be noted that the former building of school No. 2, the one built in Alamudun in 1945, was found by the Ministry for Emergencies as being in bad repair. In 2006, it was pulled down but the school has been in operation until now. The children have been taught in a small outhouse built in 1970s and in construction trailers adapted for school needs. For lack of funds, construction of new school premises lasted for five years. Thanks to Centerra's aid, the school is to be commissioned in 2011.
Kanat Sadykov, the KR Education and Science Minister, thanked Centerra Management for assistance on behalf of the Government. Centerra's funds, he said, will be used to complete construction of 27 schools in Kyrgyzstan, mostly in the southern Osh and Jalal-Abad provinces, where many educational institutions were hit by an earthquake on July 20, 2011. A Government Commission will approve the list of sites to be supported. Construction of eight schools is expected to be completed before the year end.
Osmonbek Artykbayev, a member of Kyrgyzaltyn Board, also thanked Centerra Management for understanding and support. "The importance of the Kumtor Project for Kyrgyzstan is indisputable as it provides high-paid jobs for more than 3,000 Kyrgyz citizens. Around $10 million is expected to be contributed to the Issyk-Kul Development Fund in 2011. Moreover, huge sums are being invested in the Kyrgyz national economy through contractors. We are very much interested in seeing Kumtor operate as successfully in other spheres. We are really grateful to Centerra for its prompt response to the Kyrgyz Government's request regarding school construction and renovation. Our one duty now is to see that the funds should be used properly and effectively," said Osmonbek Artykbayev.
Centerra President Stephen Lang, in his turn, noted that the Company would consider other projects, too. "We are happy to be able to come here and see ourselves the way the funds are being spent. It is important for us to see the positive results of our Company's operation in Kyrgyzstan. Our immediate plans include visits to the projects we support in Issyk-Kul province," Stephen Lang said in conclusion.