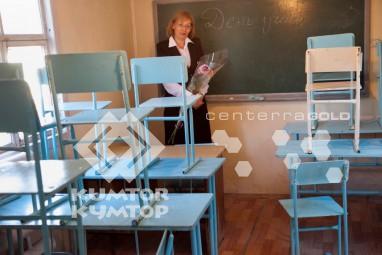 School No. 2, the only one in the neighborhood, has remained the sole center of education for Alamudun, a small village located near Bishkek, since 1945, when it was built. Generations of local residents were taught there. Nadezhda Solovyova, a 1969 graduate, has two sons, also graduates of that school. The tradition is now continued by her grandchildren. Yet, the new generation of kids had but a shabby school-building to study in. The roof seemed about to collapse at any moment while the floor was ruined by groundwater. To continue teaching in such classrooms was a deadly risk.
"We had to decide whether we should transfer the children to schools in other villages or let them stay here. In fact, we have good teachers in Alamudun who have worked here for years. So, we would very much like to keep the children here," says Nadezhda Petrovna. In fact, the teachers were fighting tooth and nail to improve the conditions at school: the gym's locker room and even construction trailers were converted by them into classrooms. In-between the classes, they would haunt the doorsteps of various authorities asking them to recognize the school building as being in bad repair and have a new building built. "Working in such a crush as they were the teachers simply could not give proper attention to their students after classes. Yet, we were living in the hope that help would come some time and kept the children here," Nadezhda Solovyova complained.
In 2006, the former building of school No. 2 was closed and half pulled down. Giving classes in such a half-ruined building was just a great risk. The schoolchildren kept studying in a lean-to built back in the 1970s and in a number of construction trailers adapted to classrooms. The first 9.3 million soms for the new building construction was assigned in 2007. In the subsequent years, though, the funding dropped dramatically: to 3.3 million soms in 2008, 4.8 million soms in 2009, 4 million in 2010 and 9,500 soms in 2011. The split funding created merely a semblance of construction and actually procrastinated its real completion. One can only speculate as to how long all this could last were it not for Centerra Gold Inc. which contributed $10 million for construction and renovation of 27 schools in Kyrgyzstan. School No. 2 of Alamudun was fortunate enough to be on the list.
On the eve of Teacher Day, Oct. 1, Centerra President Stephen Lang, Education and Science Minister Kanat Sadykov and Chairman of Kyrgyzaltyn Board Osmonbek Artykbayev visited the Alamudun school.
According to Kanat Sadykov, this construction site, just as those of other problematic schools, is closely supervised by the Government. "Of the initially planned 48 million soms, only about 24 million soms has been actually allocated so far. Centerra's contribution will help complete construction before the end of 2011," the Minister said.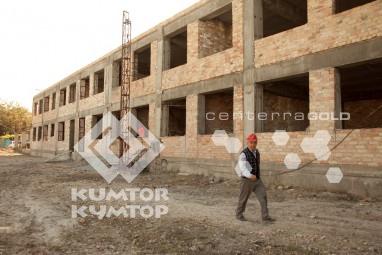 Yury Podluzhny, the director of the construction company, noted 30 million soms was necessary to complete construction of the school.
"The previous project didn't include construction of water supply, sewage and power supply systems. Also, the school needs to be connected to the transformer substation, for which purpose more than 3 million soms is required. Construction of water supply, sewage and power supply systems will increase the project cost by a further 1 million soms. Worse, the designers didn't include certain construction-and-assembling operations," he explained.
"How come a number of important operations were omitted by the designers?" asked Kanat Sadykov.
"The project was developed in 2007 in haste. Besides, the cost of building materials has significantly risen since then. The initial construction budget being 36 million soms, it has amounted to 60 million soms since 2007," Yury Podluzhny said.
"At the last Cabinet meeting we reported that 13 schools badly needed reconstruction where children had to study in tents. They are mostly located in southern Osh and Jalal-Abad provinces, where most schools were hit by an earthquake that occurred on July 20, 2011," Kanat Sadykov added. "A Working Commission has been formed which comprises representatives of the Education and Science Ministry, Finance Ministry, National Construction Committee, and the Government's Staff officers. The Committee will supervise the priority of capital allocations and the efficiency of spending. Around ten schools located in the Kara-Suu, Nookat and Alai districts, Osh province, are expected to be built from scratch. Renovation and construction of about eight schools is supposed to be completed this year," he said.
Osmonbek Artykbayev, the Chairman of the Kyrgyzaltyn Board, pointed out that Centerra Management had promptly responded to the KR Government's request for assistance in school construction and renovation. "Our one object is to see that the funds should be used properly and effectively," he concluded.
by Irina Pavlova,
News Agency "24.kg", 03.10.11 14:01.