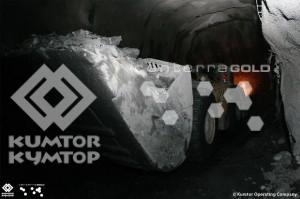 In response to statements made by various parliamentarians alleging illegal removal of equipment from the Kumtor Mine Site, the Company in particular would like to note that no illegal removal of equipment from the Kumtor Mine Site has taken place, at any time in the past or the present. The Company would also like to state that due to the closure of the underground project (see Centerra's news release, dated November 7, 2012) and in order to optimize costs, the Company management decided to sell the equipment that had been used solely in the Underground operations. In February 2013, all Underground equipment was relocated from the mine site to the Balykchy Marshalling Yard.
On March 5, 2013, through Kumtor's website the Company announced a tender for sale of 22 units of underground equipment (loaders, haul trucks, drilling rigs and other auxiliary equipment), including parts. The announcement about the sale of the used equipment was also posted in compliance with the generally accepted mining practices at www.miningsurplus.com. This equipment was also offered to Kyrgyzaltyn JSC and other companies operating in Kyrgyzstan, Kazakhstan, and other countries.
Throughout this year (2013), the Company has held negotiations with a number of companies and selected a winner of the tender who, at prices acceptable to our Company, was willing to purchase all of the underground equipment and remaining parts as a single package.
In addition, the Company would also like to highlight the fact that in accordance with international practice, it regularly ships components of mining equipment, which cannot be repaired at the mine site, for repair and maintenance. The latest of such shipments occurred in November this year when equipment was shipped to the Caterpillar Service Center in Karaganda.