Mine Closure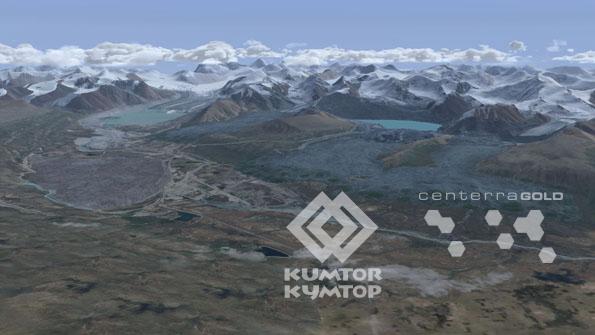 The most recent life-of mine plan is for open-pit mining to end in 2023 and milling operations to conclude in 2026. As agreed with Kyrgyz authorities and outlined in the Environmental Management Action Plan (EMAP), KGC is required to update the Conceptual Closure Plan (CCP) for the operation every three years, and complete a Final Closure Plan (FCP) two years prior to closure. This approach allows for a period for testing and monitoring of several years to evaluate the various options contemplated by the CCP, and time to consider any changes to the environmental, regulatory and social environment that may have occurred over the life of the mine. KGC has prepared CCP's in 1999, 2004, 2008, 2011 and most recently in 2014.
The updated CCP covers the existing components of the Kumtor operations including the open pits, waste rock dumps, TMF and related water treatment facilities, and the mill complex and associated mine infrastructure.
Animation. Kumtor gold mine conceptual closure plan
The CCP is guided by the following objectives:
Materially comply with regulatory requirements
Minimize residual environmental impacts
Ensure mine site feature are geotechnically stable
Ensure protection of public health and safety
Return the land to suitable post-mining land use
All CCP's have been previously submitted to the relevant Kyrgyz agencies for their information and in 2014, the conceptual closure plan was also provided to the Government's international technical advisors involved in the ongoing negotiation to restructure Kyrgyzaltyn's ownership in Centerra and Kumtor.
As a result of the latest conceptual closure plan review, the uninflated financial estimates for life of mine closure cost increased from $29.5 million (2011) to $49.2 million, and include estimates for the closure cost obligation as at December 31, 2013. Kumtor is required to re-calculate closure liability on an annual basis, in accordance with International Financial Reporting Standards, to take account of future discount and inflation rates.
In 1995, Kumtor established a reclamation trust fund to accrue cash funds for mine closure liabilities. This is funded by sales revenue, annually in arrears. As at March 31, 2015 the balance in the fund was $ $18.9 million, with the remaining $30.3 million to be funded over the life of the mine as per the legal agreement with the Kyrgyz Government.
Additional information relating to mine closure is included in the Annual Environment and Sustainability Reports which are also available on our website, "Reports" section.