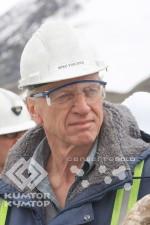 A great many of the current events and pronouncements are concerned with the Kumtor mine. The miners were the focus of protests and newspaper headlines. Some of the publications contained truth while others were downright lies and speculations. These things and many others have made the subject of our conversation with Mr. Michael Fischer, President of Kumtor Operating Company.
– Mr. Fischer, the early October developments were followed closely by Kyrgyzstan's entire society. Did these developments have any effect on your company which is known to be mining gold at Kumtor?
We are following closely everything that happens in Kyrgyzstan. As for the protests and roadblocks, ultimatums, etc., we believe these are wrong methods as all problems should be solved in a different way: by way of negotiations rather than by presenting ultimatums. I do not feel like commenting on the opposition actions. We are producers and should mind our own business: produce gold, pay taxes and observe the law.
We encountered a number of unprecedented geotechnical problems this year — problems that needed urgent solution and required revision of our prior targets. Yet, despite the difficulties and the need to revise our mine plan we started to produce gold from the Southwest ore quite early. The Company expects to produce about 11 tonnes of gold in 2012. Importantly, achieving the projected gold production is dependent upon strict adherence to our schedules and continued operation of the mine.
Moreover, as previously disclosed, the technical and financial study of the deposit potential has enabled us to increase reserves and extend Kumtor's mine life to 2026. Thus, with the high gold price the Company can provide significant tax revenue to the Kyrgyz Republic of approximately $1.5 billion in the next ten years.
– Prime Minister Satybaldiyev's visit to Kumtor has become an important event in the life of the company. Did you succeed in establishing a dialogue with Kyrgyzstan's leadership?
– I would like to stress that we have always sought for a dialogue with the national leadership. It may be that for a number of reasons we were not too successful sometimes, but this was our invariable wish. The visit of the Prime Minister, his business-like approach, and his wish to get to production details shows the current government's line for cooperation. During his visit we found points of contact and mutual understanding. Importantly, we agreed that all the matters and problems we discussed during his visit should be addressed jointly and within the limits of the law.
– There have been a lot of complaints with regard to individual facilities: the dam and tailings management facility. These have been closely monitored for a long time and are the object of heated debates among experts, members of parliament and the general public. What are the real facts about them?
– True, these facilities have fueled a lot of controversies and speculations, ranging to a possible burst of the dam and the environmental disaster. To begin with, I would like to say that both facilities are closely monitored by our experts day and night.
As soon as the hypothetical displacement of the dam was reported in 1999, and this displacement was documented in the later years, we held consultations with numerous authoritative Kyrgyz and international engineering companies (including BGC, Golder Associates, Senes, Strathcona, etc.) jointly with the local controlling bodies. As rightly noted in the parliamentary report, BGC was also retained for developing adjustment measures that are under implementation now. Most programs implemented in the past seven years are a result of the independent audit conducted by BGC in 2005. The subsequent research focused on the dam's safety during the years that followed the last audit and included the check of implementation of the key recommendations.
Operation of these facilities is discussed by the company's experts on a weekly basis, and I don't see any reason for concern in this field.
– Could you comment on the activities of the State Commission?
– I have to disappoint you here, because I don't believe it ethical to comment on the activities of the State Commission before it has finished its work. The only thing I can say in this respect is that all the documents the Commission requested were submitted by us in good time and volume.
We have a lot of questions with regard to the parliamentary report. We do not agree with its conclusions – a fact that we have openly stated not only to the commission members but also to media workers and the general public. Controversial issues contained in the report of the parliamentary commission made us retain a US-based company, Prizma LLC, which provides independent consultations and audits.
– Why precisely this company?
This company was retained for providing services in settling disputes among the Centerra shareholders on the validity of contents and conclusions as seen in the recent reports developed by Kyrgyzstan's various commissions on Kumtor. Services provided by the company's experts include the appraisal and audit of CSR and environmental programs, interaction of the stakeholders, sustainable development issues as well as compliance with IFC and the like international standards. This company has vast experience in furnishing services as a witnessing expert for international arbitration.
– Once we've started talking about the activities of various commissions that have been formed recently for inspection of the Company we would like to clear up one point. The parliamentary commission has it in its report that during the years of its operation the Company took abroad approximately 250 tonnes of gold leaving this country with a mere 1.5 tonnes or less. How could the Canadian investors take that much gold out of Kyrgyzstan so secretly?
– A good question (laughs). There were also people saying that we had an airstrip at the mine and a plane that arrived every week to take gold to Canada. But what I like best is the rumor to the effect that we have dug a tunnel to London which we use to smuggle gold bars – direct to the London Bullion Market, I suspect. In that event, the Company has every ground to apply to the Guinness Book of Records claiming the world's longest tunnel. To the best of my knowledge, it is the Seikan Tunnel in Japan (53,850 m) that has been considered the longest one so far.
But if we talk seriously, I must say, and I can vouch for my words, that no gram of gold has ever been taken from Kyrgyzstan. Gold produced by the Kumtor mine is purchased at the mine site by Kyrgyzaltyn for processing at its refinery in the Kyrgyz Republic pursuant to a Gold and Silver Sales Agreement that was signed by our Company, Kyrgyzaltyn and the Government of the Kyrgyz Republic. Kyrgyzaltyn is the only company that enjoys the exclusive right to sell refined gold and silver both in Kyrgyzstan and abroad. Our Company has neither legitimate right nor proper license to sell gold.
As regards the statistics, I can say that during the period between 1997 and 2011 revenues from gold sales have totaled US $4.86 billion. This includes payments to Kyrgyzstan, which between 1994 and 2011 have totaled US $1.85 billion, of which US $669.64 million were taxes, mandatory payments and dividends. Capital expenditures are estimated at approximately US $1.22 billion. Add to this US $110.87 million in exploration costs and US $2.37 billion in production and other costs related to the deposit development. The dividends paid to shareholders other than Kyrgyzstan, which owns the largest interest (around 32.75%), are estimated at US $95 million. The Company's net revenues have been about US $395 million for the entire operation period. A not too high figure…
– But what about production in kind? Whence the figure of 1.4 tonnes of gold, the only amount that, according to some members of parliament, was left in Kyrgyzstan?
– 1.4 tonnes of gold is dividends expressed in physical terms. The parliamentary commission has reestimated US $44.41 million paid in dividends, according to the average gold price. By so doing one could reestimate all the Company's payments in Kyrgyzstan, which amount, I will recall, to US $1.85 billion, to obtain approximately 90 tonnes of gold, based on the average market gold price, which is quite substantial, you will surely agree.
– There's one more subject which has recently created quite a stir with regard to Kumtor. I mean the environment. What is the Company doing under its environmental and biodiversity program?
The environment and biodiversity conservation are the Company's top priorities. In its activities, the Company is guided by certain industrial and environmental standards adopted by a number of international finance institutions. Kumtor Operating Company adheres strictly to standards in this sphere effective in Canada and the Kyrgyz Republic as well as to those recommended by World Bank. Production complies with the most stringent standards existing in both countries and recommended by international finance institutions.
A workshop was held on October 19, 2012, in Bishkek to discuss a biodiversity management strategy to be implemented in the Kumtor mine's target area, Jety-Oguz district, Issyk-Kul province. The workshop was attended by experts, environmentalists and NGO representatives. The Company is expecting to generate its Biodiversity Management Strategy and Plan by year end. As part of this, Kumtor is expecting to make financial commitments in support of priority programs which will also be announced at that time.
– How do you work with the local communities to preclude conflicts?
One of the successful business postulates says: an open and transparent company can easily preclude most of the potential conflicts arising from its activities. Transparent business is taken to mean not only the financial aspect but also the transparency of activities themselves. In other words, information about how the deposit is developed should be clear and made available to both local communities and society at large. In this field, Company Management has been maintaining a constructive dialogue with the local communities and broad public by providing them with the entire information with respect to the Company's activities.
It is much easier to preclude a conflict than to restore one's business reputation or, most importantly, local communities' trust after a conflict breaks out. One of the Company's central efforts in this area is creating partnerships with local communities which implies involvement of the Company in the socio-economic development of a region where the Company's key facilities are located (including charity socio-cultural programs) as well as providing support for public initiatives and civil society's institutions.
– Here's a logical question: What are the social programs you are implementing in the region. Which of them are quite successful and which demand improvement?
– Apart from its contributions to the Issyk-Kul Development Fund that are used for capacity-building purposes there are also projects the Company funds using its own budget. The most successful of them is a network of microcredit agencies which enable the farmers to obtain easy-term credits to found their own small businesses. Access to funds being a long-standing problem in rural areas, we have extended this project to two districts and the city of Balykchi. There are also workshops we conduct in collaboration with the German Society of Technological Cooperation, One Village One Product Program, Eurasia Fund, which, I believe, help people obtain proper information and organize businesses of their own. These are just few examples of our contribution to the development of the Issyk-Kul region.
– Mr. Fischer, do you have a success formula? The one of being "one of the guys" in a region where mining takes place?
Whatever the country or the continent I worked in, I have never during my whole career tried to become "one of the guys". I see it as much more important to be sincere and honest and enjoy trust of the people who surround you, work with you. And one more thing. You must be able to give answers to difficult questions and admit your own mistakes.
– And here is the last question: What, in your opinion, should be the basis of cooperation with the Government of the Kyrgyz Republic and what the Government should do to give an impetus to such cooperation?
– I'm sure, protection of the economy against instability, protection of foreign investment should become one of the government's top priorities today. There should be clear guarantees which would have no retroactive legal force. Good that everybody understands the importance of solving the chief problems: combating corruption, increasing transparency and proceeding with reforms.
URL: «24.KG»